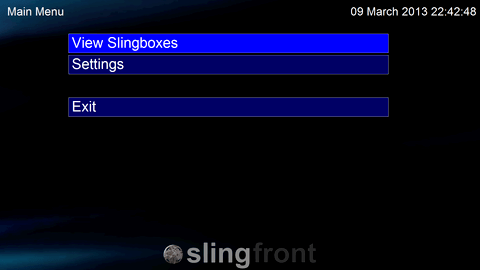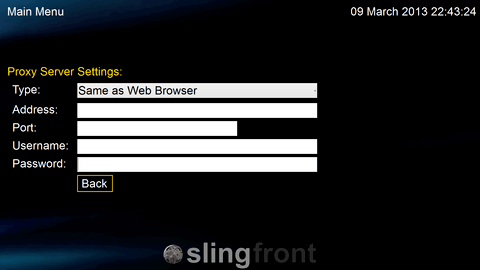 Enhancements/Releases:
Version 1.6 - 24th March 2015
Now launchable from Kodi (Progam Add On)
Version 1.5 - 8th March 2014
Various and substantial changes and enhancements by Oliver.
Version 1.46 - 14th June 2013
Changes by Oliver:-
If the stream is taken over by another user/Slingplayer then tidily drops back to the menu system rather than just show a black screen.
If the user is the administrator then automatically take over the stream when connecting rather than fail after a while with a login error.
Made it still show the View and Edit Slingbox menu options if no Slingboxes have been found. This addresses an issue where if SlingFront is launched before an Internet connection has been established (such as can happen if it's launched immediately after Windows boots) it means you have to exit and re-launch the app to get the list of Slingboxes.
Fixed a minor bug where the default mapping for Power (P) wasn't set correctly on a new install.
Added the following keyboard mappings: Play, Stop, PAuse, Rewind, Fast Forward, Record, Page Up, Page Down, and Quality.
Version 1.45 - 2nd May 2013
Fixes XBMC add on.
Fixes performance issues with alpha blending.
Fixes double clicking hiding video.
Version 1.4 - 27th March 2013
Now maps "menu" remote command.
Fixes channel up/down reversed.
Fixes not hiding volume image.
Maps colored buttons (needs testing).
Implemented SlingBox input changing.
Fixes typo in application name.
Version 1.3 - 19th March 2013
New edit SlingBoxes menu.
Edit stream resolution and FPS.
Added power control and control to show show stream information.
Added setting to resume playing last SlingBox on startup.
Fixes stopping SlingBox if no video signal.
Version 1.2 - 11th March 2013
Fixes not returning focus to XBMC on exit.
Stream information now displays when pressing info.
New general settings where you can disable menu music.
Fixes next Slingbox control.
Version 1.1 - 10th March 2013
Includes plugin to launch from XBMC.
Version 1 - 9th March 2013