Spyware, adware and virus free.

Requires the Microsoft .net framework 2 SP1 or above.
New:
Version 4.2
August 25th, 2011
A quality freeware application, aimed at providing easy, stable and fast CD copying to WMA, MP3, MP4, WAV, OGG, and FLAC audio formats.

Easy to use - just click 'Rip'.

High Speed Ripping - saves you time.

Excellent output quality - enjoy your digital audio.

Powerful yet easy-to-use software that allows you to extract audio tracks directly from your music CDs to computer files.

Just insert your CD and click 'Rip' - it's that easy.

Works on 2000, XP, Vista and Windows 7.

Automatically retrieves album information (for example, artist, genre, and track names) from FreeDB, a music information database on the Internet.

CD Player - Easily play the whole CD, or one click to play or preview any track.

Automatically downloads album artwork and lyrics after ripping.

Cue file support. Create a single file with cue file.

Features Volume normalization for all output formats.

One of the few free applications to rip directly to FLAC format.

Available in the following languages: English, French, German, Spanish, Italian, Danish, Swedish, Dutch, Portuguese, and Japanese.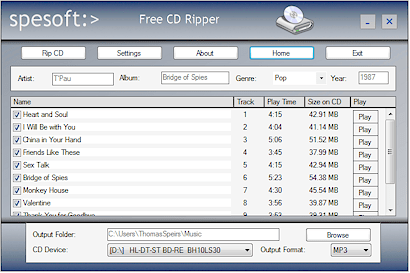 Enhancements/Releases:

Version 4.2
Now available in the following languages: English, French, German, Spanish, Italian, Danish, Swedish, Dutch, Portuguese, and Japanese.
Improved interface.
Version 4.1
Version 4
Now can rip to M4A.
MP3 variable bit rate ripping now uses VBR as opposed to ABR.
Volume normalization supported for all output formats.
Automatically creates a playlist file.
Version 3.9
Fixes error when using a custom genre
Fixes issue not finding drives if many are installed
Lyric download working again.
Version 3.8
Fixes album artwork downloading.
Version 3.7
New setting to automatically eject CD after ripping.
Version 3.6
CUE support. Create a single file in any format with a CUE file
Automatically downloads lyrics.
Version 3.5
Fixes not setting tags for WMA files
No longer requires admin privileges to run
Version 3.3
Automatically downloads album cover artwork
Version 3.2
Fixes to WAV and FLAC ripping
Version 3.1
3 X Faster ripping!
Rip an entire CD in 3 minutes
Fixes tag issues with MP3 and FLAC
Ability to use custom Genre
Less CPU usage when ripping
Version 3.0
Upgraded to .net framework 2.0.
Make folder option.
Fixes FLAC ripping.
Select Genre from drop down.
Fixes no Genre.
Fixes displaying tracks for non audio CD media.
Now works with Vista.
Version 2.70
Fixes mp3 ripping not setting genre tag.
Version 2.60
Fixes not creating folders.
Version 2.50
Volume normalization.
Leading zeros in track numbers.
Progress bar.
Correctly replaces invalid characters in file names.
MP3 variable bit rate on by default.